With 25 years under her belt as a hair extensionist, Naomi Panizza, has seen it all. And while hair extensions are now a newer trend in some salons, she maintains, what hairdressers deliver is – at the heart of it – the same. In this interview we spoke about hair extensions, confidence, and heaping dose of care.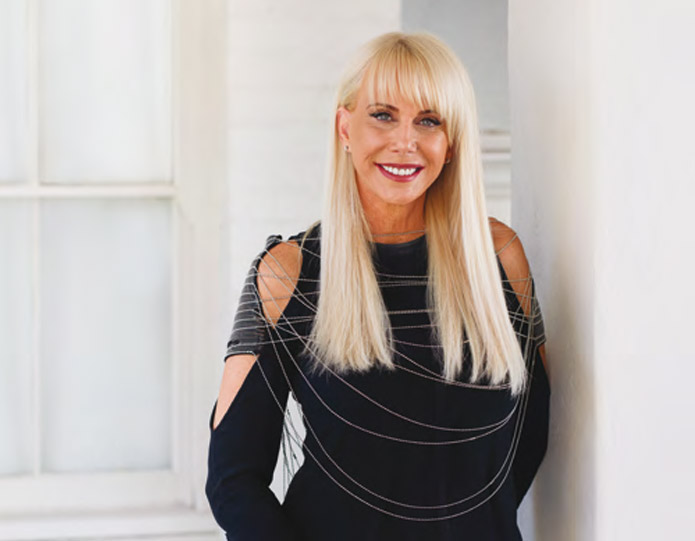 Why did you get into hair extensions?
I got into hair extensions because my hair snapped off to the base of my head.  In those days I was pretty radical, and I'd changed from    purple and red foils to white blonde. Then someone put a bleach bath on my hair and it completely snapped off right to my head. It was 6 months until I could grow it and my only option was a wig. I heard about Great Lengths at a conference and I thought, "Oh my gosh, if I can start to feel human- if I can feel pretty again then what an honour and a joy to have them in my salon." A week after I got my Great Lengths I signed up to have them in my salon and I've been doing them ever since.
How do hair extensions change a person – unrelated to looks?
Many women come feeling very unconfident and unsure of their looks. They don't even look in the mirror. And then you put the hair in and you see them almost magically put their shoulders, back and smile at themselves in the mirror.  In our salon we call this magic "Sisterhood" but really it's about giving women confidence. I also look after many clients who are cancer patients. We call this a 'corrective application' because we want to create a caring environment and avoid the "c" word which may make them feel stigmatised. But at the end of the day, in every case with our clients, we are giving them back a piece of themselves and a way to feel beautiful when they haven't liked what they see in the mirror.
What's the most satisfying part of looking after your clients?
Their happiness. To witness them loving themselves again and see how that genuinely empowers them. It's never been about money and gaining their trust you make a lifetime friend. I have clients who ring me up ten years later who say, "I'll never forget what you did for me".
Empowerment and womanhood seem to play a real role in your salon
I feel like a lot of women needs time for themselves. My salon is a place for this, and a place to make friends. You know, its not uncommon for some of my clients simply to pop in for a hug. No service, just a hug and a laugh.
What do you think people misunderstand about extensions or your services?
The biggest misunderstood thing about extensions is that they will damage your hair.  We work hard to educate people that they will actually help their hair.  Another big one is " is it going to be so much work for me?"  If they are put in correctly and they come in for a 10 minute check up every 6 weeks, they are completely manageable.
FOR ME ITS ALL HEART NO BUSINESS, BUT IT'S WHAT'S WORKED
In your 25 years with Great Lengths, how have you seen the market change? How have you seen your customers change?
To be honest, I feel when I started the first thing people would say "Oh my gosh, I only thought Hollywood women had these".  The concept of who should have them and who can afford them was a big thing in the early days. Nowadays, extensions are for everyone.  I am looking after a lot of post-operation clients now too.
When you are consulting someone for extensions, what are the 2-3 most important things to bear in mind?
Number 1.  Analyse and be honest – if the client's hair is not suitable do not go ahead. It will damage your business.  2.  You have a palette of colours and you need to be on the same page as your client. Even if you visualise the end look , get a visual reference and make sure they understand.  3. Always over quote.  There's nothing worse than finishing up and having to ask for more than what you quoted.
How do you keep your clients happy and coming back?
I think I'm a perfectionist.  But I also never give a client something that I feel will not work.  If she wants 60 cm hair, but I know she'll not look good I'm only going to put in 40cm.  The end result has to be natural and wearable and designed  around them and their lifestyle. Just be honest and work to enhance them.
What are the most important things for someone to build their hair extension business?
Integrity, quality of work and a good product. Hair extensions are not just a sale, they are about caring for someone. For me its all heart no business, but it's what's worked.
https://www.greatlengths.com.au/wp-content/uploads/2020/12/hair-extension-salon.jpg
450
833
greatlen
https://www.greatlengths.com.au/wp-content/uploads/2019/04/GL-logo_Black.png
greatlen
2020-12-09 04:59:47
2021-02-05 04:01:53
From the inside out