The quest to keep your hair in good condition whilst being a mum
Postpartum hair loss and hair extensions
During pregnancy your hormones will be affected and this can lead to thicker or thinner hair. Read on to find out why this happens and if the timing for hair extensions is right for you while you discover motherhood. To be sure, Great Lengths hair extensions are safe during pregnancy and postpartum and this article is designed to help you understand the fluctuations between thin hair and thick hair to help you make a decision about your hair extensions.
At first…..Thicker Hair
During the second term of pregnancy many women report that their hair suddenly feels thicker. This is not because there is new hair growth however it is because there are less hair is falling out. This is all due to an increase in the hormone oestrogen. The hair is not falling and thus you may feel that you have an amazing feeling mane (and bigger boobs!). Alas, it may not stay.
Thinner Hair Post Partum
Before your oestrogen returns to normal levels, and after you have given birth, it is normal for women to experience hair loss. Your body has changed the amount of time your hair is going through a growth and resting phase and it will be falling out more than usual until your baby is about three to four months old. Again this is temporary, and you should experience new hair growth somewhere between eight and 12 months. This is only an estimate however and of course the stress of looking after a new baby, the lack of sleep, and general upheaval of life can also affect a new mums hair quality. In fact it is estimated that normally, people lose 80 strands of hair a day, however new mums can shed up to 400 hair is a day!
Thin hair might be experienced all over your scalp or you might notice thinning hair especially around the temple areas. When it grows back it may be light and fluffy for the first few months. During these times it is absolutely safe to have Great Lengths hair extensions and they may help conceal thin spots and give you a confidence boost.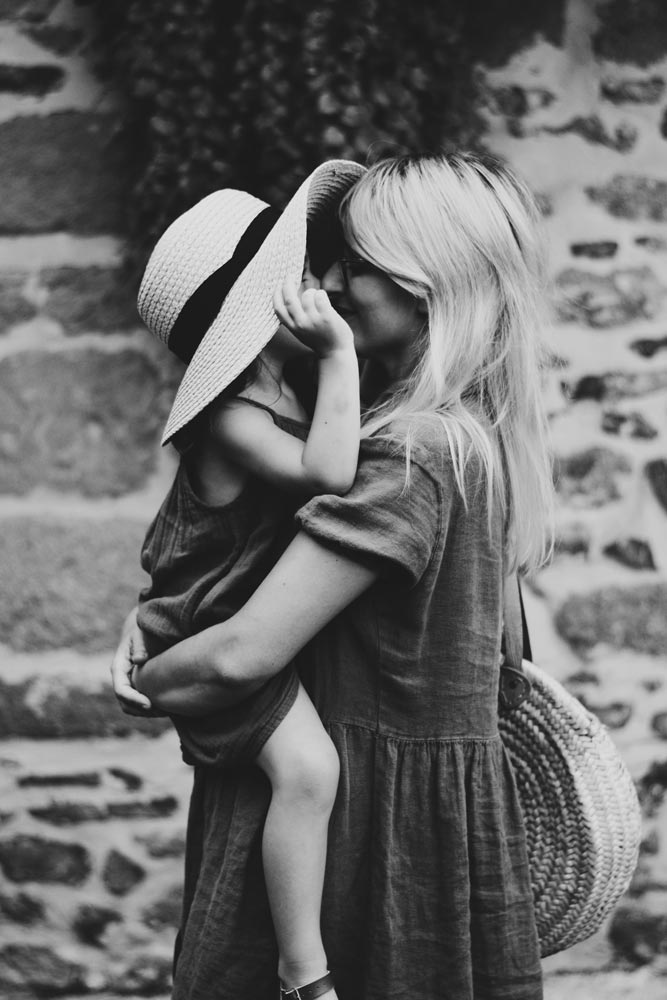 Don't Stress New Hair!
As your hair returns to its past lustre and thickness, the new hairs maybe finer and more delicate. This hair must be looked after and not put under stress in order to regain their full volume and strength.
Avoid tight ponytails that will pull at areas where the new hair is just emerging. In addition, you will want to avoid types of closures and attachments that stress out the hair. Examples of this would be clip-ins, micro beads, and weaves, which all put an extraordinary amount of weight on the hair as well as sometimes bending it into a position that can lead to breakage.
Baby That New Hair
The Great Lengths bond is made of hydrolyse keratin. This specially formulated natural substance expands and contracts with water when cocooned around your own hair. Whilst each bond carries the weight of the extra hair in the hair extension, it is perfectly weighted to be sustainable by your own hair. When your hairdresser applies each bond, they will carefully take a small section of your own hair and make sure that it is capable of supporting the bond. They will avoid applying bonds to areas with new hair such as the temple, so that the new hair can grow safely while the hair extensions create volume and body throughout the rest of your head.
It is important to note, that while you are still experiencing falling hair, and while you have hair extensions in, you may see some of these fall and has trapped in the bond. This is not the bond pulling the hair out of your own head. Rather, this is the hair naturally falling out but because it is already attached to the bond cannot fall free.  it is safe to stay attached in the bond just like the hair extension hair, until you choose to have them removed.
The Best Hair Extensions for Post Partum
Great Lengths hair extensions are a great way to keep your volume and feel beautiful as a new mum. They are the perfect, gentle remedy to pregnancy related hair loss. By babying your hair as it recuperates from thinning, Great Lengths does more than conceal fine hair. As well, they are extremely low maintenance during a time in your life where there just aren't enough hours in the day.
To find a salon who specialises in Great Lengths hair extensions, click on our salon locator here.
https://www.greatlengths.com.au/wp-content/uploads/2021/04/hair-pregnancy.jpg
321
833
greatlen
https://www.greatlengths.com.au/wp-content/uploads/2019/04/GL-logo_Black.png
greatlen
2021-04-26 17:05:46
2021-04-26 17:07:30
New Mum, New Hair?