A Sunshine Coast Hair Story
We joined up with Sunshine Coast top hair salon, Xtreme Lengths, to ask the A to Z of hair extensions in a world of sun and surf.
Tell us about Xtreme Lengths salon concept? It must fold over into your own personal pursuits of sun and surf?
Absolutely, I guess I owe a lot of my success to staying aligned with my beach-loving lifestyle. Living on the Sunshine Coast, of course a lot of our time is spent outdoors and at the beach, so being able to bring my passion for hairdressing and hair extensions along for the ride in this amazing lifestyle, equals the ultimate dream!
Up here, less is definitely more. We still want glorious full manes, but we also want to jump off our surfboards and into a cafe – whilst looking great. I like to give my clients exactly this, so yes, my signature look blends the best of those two worlds together.  I find a lot of creative expression via my social media platforms and being able to showcasing my work/lifestyle and proving that my work is effortless and worth every penny !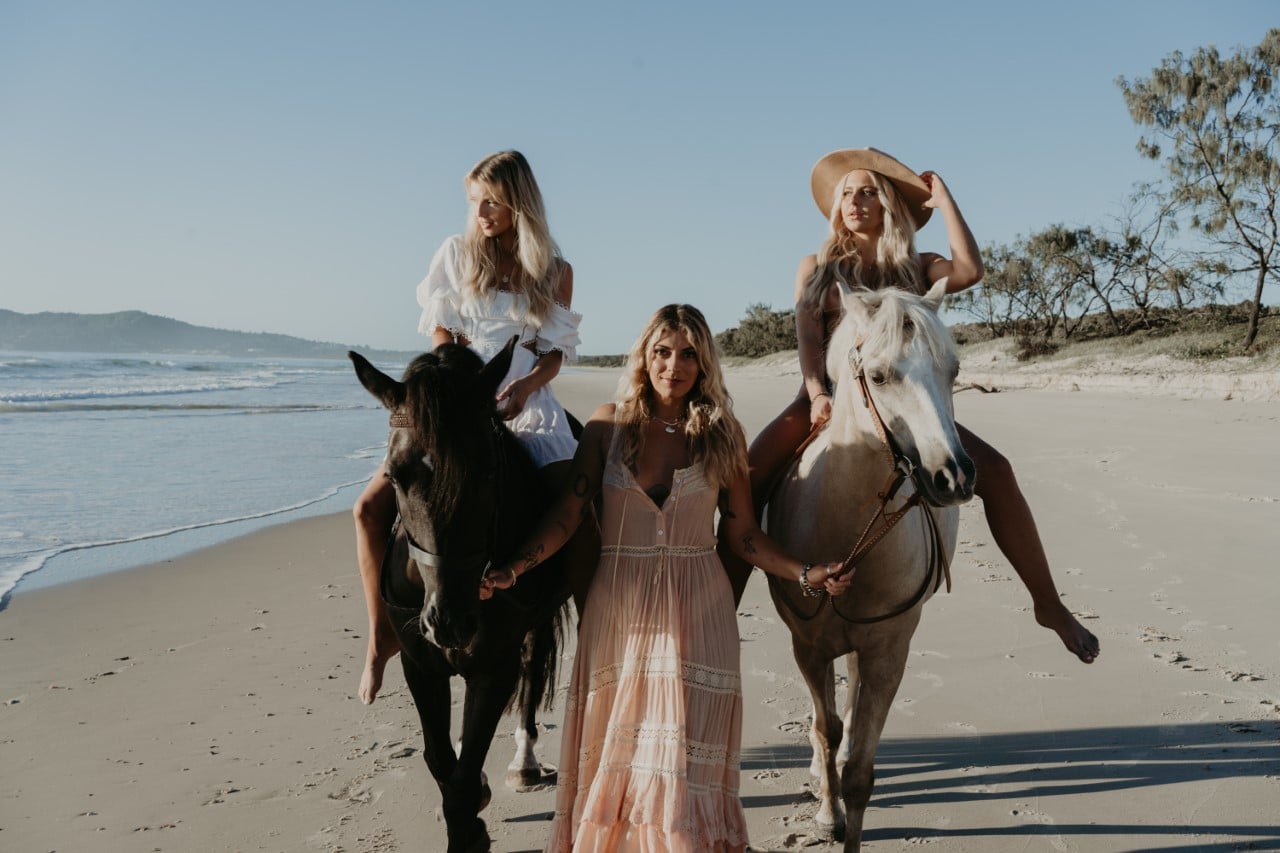 Let's talk about the truth between hair extensions and sun and surf. Is it safe to have hair extensions if you're a surfer or a beachgoer?
In a word, yes, but there are things to look out for. One of the reasons I only work with keratin bond hair extensions is because the application is so much gentler on the hair shaft. If you have an active outdoorsy lifestyle, then choose a hairdresser with lots of experience who can talk you through the approach and apply the extensions in a way that will give you the most benefit for the look you want to achieve.  I give my clients full aftercare advice and recommend certain products to keep their hair and extensions in the best condition. With all the sun and surf in the Sunshine Coast looking after your hair is a must-do.
We imagine that most of your clients or at least a percentage of your salon clients on the Sunshine Coast are beach lovers. Do you recommend Great Lengths for these beachy lifestyles?
Again – absolutely, when you use a highly skilled and qualified hair extension specialist we have built up years on hands on experience. By doing a full consultation we ask lots of questions about your lifestyle and can therefore make sure you are getting the best experience from your hair extensions. I have had clients with me since 2004! Most of my business is repeat customers and referrals by word of mouth. When people see that you can still have great hair and live a beachy lifestyle it opens up lots of opportunities for hair dressers like me. Although we love the outdoors, my clients range from athletes wanting a full-pony look, to women in their 40/50's and beyond who have lost natural volume in their hair, so my approach isn't one size fits all.
What are the special ways you recommend your clients care for their Great Lengths hair extensions if they're spending a lot of time in the sun and surf?
I have a few go-to non negotiable products and method I talk every client through. I always request while maintaining extensions at home: a salon shampoo, conditioner and treatment as well as a 100% boar bristle brush . My beautiful clients truly trust what I say and they prove to me that they listen with their longevity of how much time they can achieve out of one application. Also I highly recommend using a silk pillow slip and small silk hair ties when going to bed, or tying your hair back.
You've been with Great Lengths for a number of years. What is it about this hair extension brand that you love?
Well after using the brand for over 18 years!  I have found that a lot of our business values are in alignment – the quality of the hair matches the level of service I am known for. The fact that Great Lengths Hair is ethically sourced means a lot to me and I wouldn't work with any other brand just for this reason. I've always been impressed by the choice of colours that are available, I much prefer to use these, then use harsh chemicals to achieve the look I want. The last thing I'd like to mention is how easy it is to order. I love that fact that I can take a booking late at night and pop my order in straight away.
But honestly, it comes down to the fact that it is the most beautiful hair in the world! nothing else even comes close.
If you could give advice to any person who had a very active lifestyle but who wanted beautiful hair, what would you recommend?
You really do attract your own personality when creating a clientele in the hair industry. From elite athletes to the everyday mother /wife who keeps active my advice is
"you need keratin bond hair extensions!!" Better still – no one ever knows they have extensions! The finish we create with Great Lengths is effortless! And I am really honestly with consultations and helping my clients make the right decisions.
Many clients don't realise that they are extremely easy to maintain and are invisible when wearing high ponytails and messy buns. Not only do the keratin bonds have a natural wave and mimic naturally curly hair they also control frizziness and you can grow your hair with this particular technique.
Depending on how busy their lifestyle is and what style they are wanting to achieve with there hairstyle my approach is LESS IS MORE! From filling a blunt bob with 15 keratin bonds to applying 100 keratin bonds for my beautiful netball players who want thick ponytails when on the court sweating it out!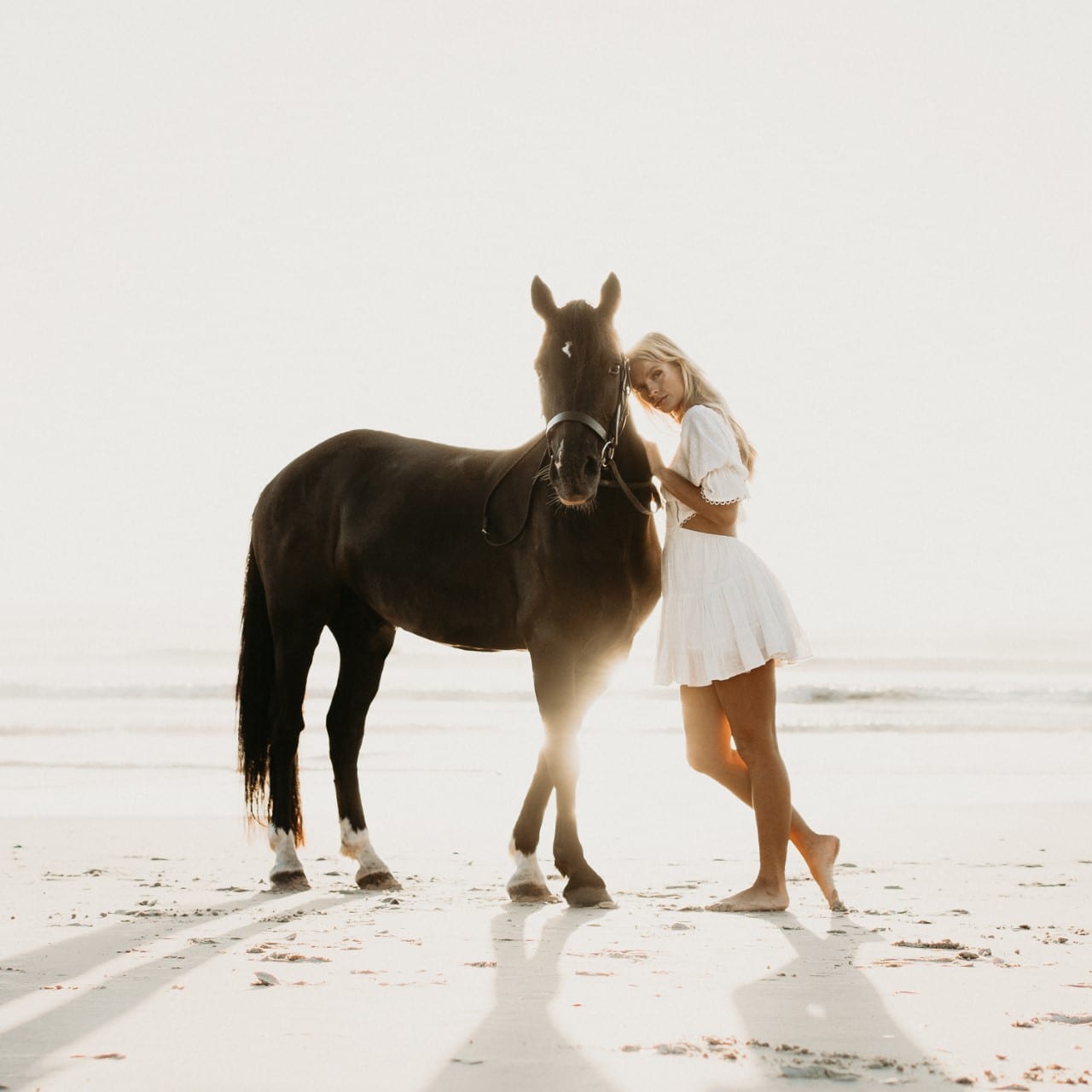 Finally, tell us about the inspiration for your last video collection and how hair extensions were part of that. Who was involved and how did it come to be?
It really was a lightbulb moment! I had a vision of girls with flowing manes..! Hence why we had the horses and props. It all came together so organically with some amazing like-minded creatives. I set out wanting to achieve a natural beauty with a raw feel to enhance the organic movement of the Great Lengths keratin bonds.
So I jumped on the phone and next minute I with an amazing team shooting and filming at sunrise on Noosa North Shore Beach! The team involved were really able to take this dream in my head and turn it into a realty.
I worked with the three insanely talented models before the day – and as alway they definitely delivered! They 100% completely trust me and the bond that I have for @morganw___ @hollyodgen @kirrashale is super special! There like my little tribe and I'm super protective and motherly towards them! I'm very grateful to have these strong women in my life and love mentoring them at the same time. Ohh and hello I just love love love working.
The photography team was my soulful surf sista – Chloe from @havana.productions and legend Konrad from @tropical.romance. Honestly these two are next level! Chloe has this insane approach and just gets into my thoughts and finds all that magic and her presence is genuine and understands branding and capturing the moment and Konrad is insane with any skills when it comes to photography. Konrad passion is weddings and is leading the way to being the best of the best.
Hair Extensions in the Sunshine Coast
NOTES: Pam Stewart at Xtreme Lengths services clients in Noosa, Noosa Heads, Rainbow Beach and throughout the entire Sunshine Coast. If you'd like to contact Pam, reach out to her through her website or on Instagram.
Video and photo credits:
Hair and Make Up : Pam Stewart. Video and photography : Havana Products and Konrad Brewski.